"I can't wait to go trick-or-treating!"
Your child is thrilled about Halloween and ready to raid doorbells for candy in a cute or terrifying costume. But there's one small (who are we kidding?), not-so-small problem: you don't have a costume ready yet. Oops. But hey mama, don't beat yourself up because you had the costumes for last year ready before June. We want you to know that it's okay if time moved too quickly for you this year or if you just found yourself procrastinating. Maybe things haven't been looking up financially; that's okay too. Some families crossed out Halloween costumes from their budget this year, and that's just fine. If you also planned to skip it but changed your mind, and you're searching for a quick solution, you're in the right place! And if you already agreed to dress your child up as Hannibal Lecter or a corpse bride, well, we hope you find a DIY costume that will make up for it on this list. Fingers crossed!
We put together these easy pocket-friendly costumes you can make using items you have at home and a few affordable materials you might need to quickly grab from your local store. Yes to DIYs! So get your scissors, fabrics, paper, and glue (and other DIYing stuff) and let's get to work!
1. Hocus-Pocus Costume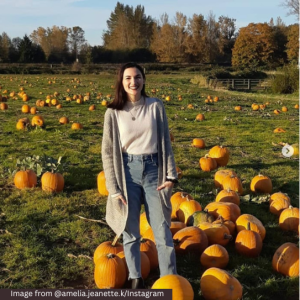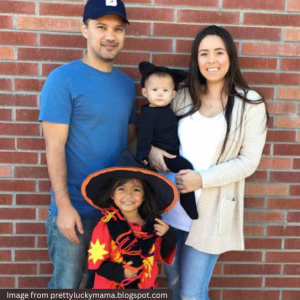 Hocus Pocus 2 came out in June and it's still trending, so we think it's a perfect idea to pick characters with the simplest costumes like Binx, Max, Allison and Dani (not so simple). For Binx, you'll need some cat ears, some makeup for the nose and whiskers. You'll also need black overalls or black long sleeves and leggings. Dani's costume will take more effort to whip up, but if you're ready to get down with this DIY thing, you'll have it ready in an hour or so. Or you can just search for cheap options at the mall. Find the full tutorial at Let's Eat Cake.
2. Safari Explorers Costume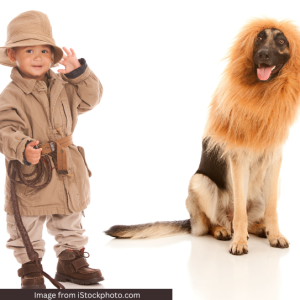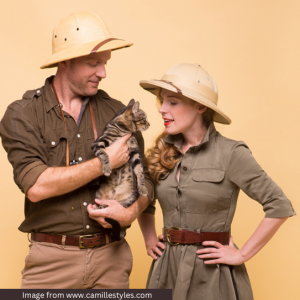 If you have pets, you have to try this. Think explorers in their khaki, boots, safari hats and binoculars with a lion or leopard striding next to them. That's pretty badass, right? Try it! Any khaki outfit you find in your closet should do the job. Or you can purchase some from a thrift store. The binoculars shouldn't cost much either. If you can't purchase a safari hat, try this DIY. But don't fret if it's too much work; the costume can do without it. Here's the full Halloween costume tutorial on Camille Styles.
3. Cheese Costume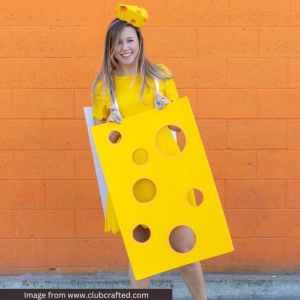 Yum! Another easy DIY Halloween costume to save the day! You're halfway through if you have a yellow dress or two-piece yellow outfit. Next, you'll need two big poster boards, some yellow paint, a circle cutter and other materials. If you're feeling creative enough, you could try whipping up a mouse costume too! Get the full cheese tutorial at Club Crafted.
4. Serena Williams Costume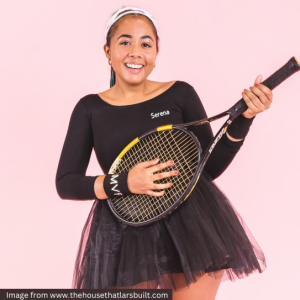 Your little black girl will love wearing this costume because representation always matters. Her success over the years is remarkable and worthy of emulation. She became a pro tennis player at 14 and has won more Grand Slam singles titles (23) than any other woman or man during the open era in tennis. Her powerful style of play also revolutionised women's tennis. To create a Serena Williams Halloween costume, you'll need a black top, a black tutu skirt and a tennis racket. It's so easy and affordable! The full tutorial is at The House That Lars Built.
5. Scarecrow Costume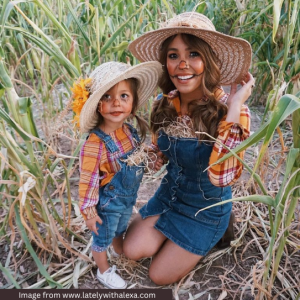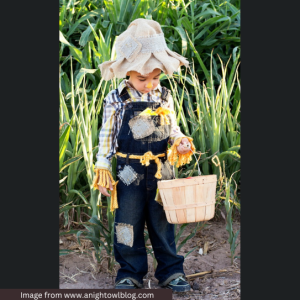 Crows! Crows! Crows everywhere! What do we do? Dress up like scarecrows and chase them all away! Haha! The whole family can dress up as scarecrows or you can split up and dress up like crows and scarecrows! You'll need straw hats, overalls, a big plaid shirt and some make-up. Get the full tutorial at A Night Owl Blog.
6. Barbie Costume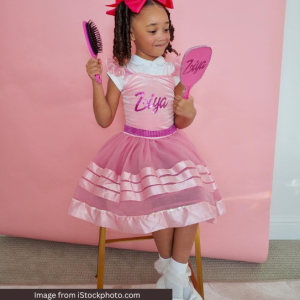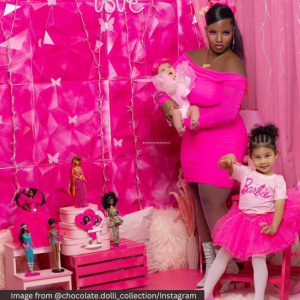 This is a cute and colourful costume to create if your child loves barbie dolls. We all know that one colour that has to be part of this costume; pink! You should find an affordable readymade option at your local store. Or follow this Halloween tutorial at Costume Works.
7. Paper Skeleton Costume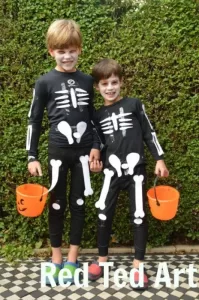 This is one of the easiest costumes on this list and what's Halloween without skeletons? … Exactly! If you have old black hoodies or long-sleeve t-shirts and a pair of black slacks or leggings, you're almost there! Then you'll need some white paper, tape or glue and white paint if you like. Remember this: you can never go wrong in a skeleton costume for Halloween. The full tutorial is on RedTedArt.
8. Rosie the Riveter Costume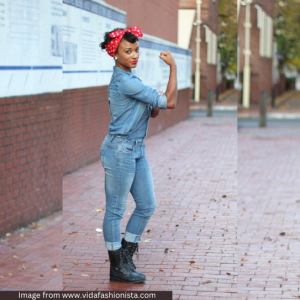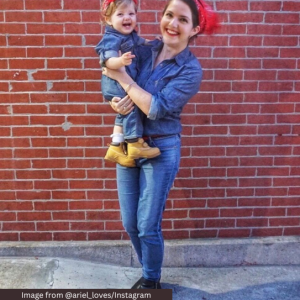 She's a cultural icon who inspired women to work outside the home during the Second World War. Rosie was a fictional character but she promoted change and enhanced the role of women in society and the workplace in the 1940s. You and your princess can dress up as Rosie without any fuss. Get denim overalls, red and white polka-dot scarves, and black boots and flex your muscles! You'll find the full tutorial on Hello Small World.
9. 80s Rock Band Costume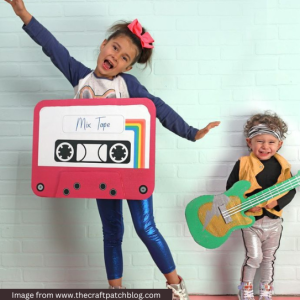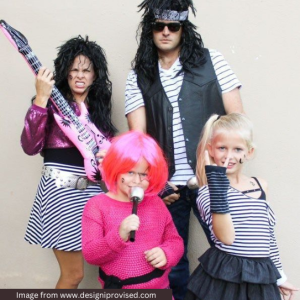 Draw some inspiration from Bon Jovi, White Snake or Heart and copy their looks in your unique way. Of course, you'll need leather jackets and pants and maybe spiky wigs. And if you have enough time on your hands, you can make paper guitars! Find the tutorials on Design Improvised and The Craft Patch.
10. Ghosts!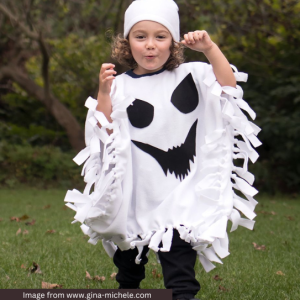 We need skeletons walking around on Halloween, but Ghosts? They HAVE to be lurking around or Halloween is cancelled. I repeat, cancelled! It's easy to conjure up this costume; a pair of scissors, and some white and black fabric and you're ready to haunt a castle. Here's a tutorial you'll love at Gina Michele.
11. Bubble Bath Costume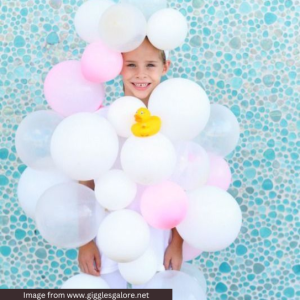 You'll need balloons, more balloons and even more balloons! It's really all about balloons for this bubble bath costume. So get ready to blow up lots and lots of balloons and put them all together. Get the tutorial at Giggles Galore.
12. Strawberry or Pineapple Costume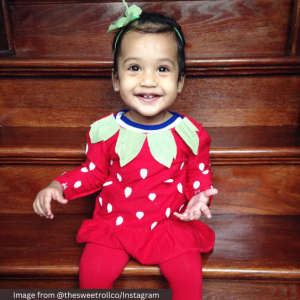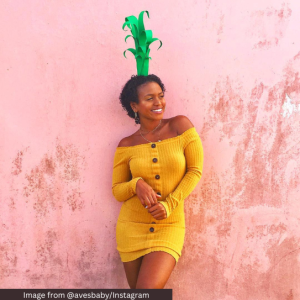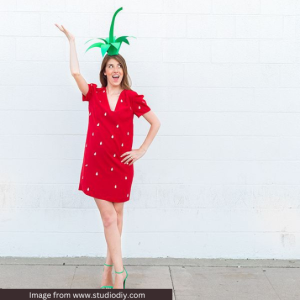 These are the last Halloween costumes on this list and they are very fun to create. You and your family can all choose to be strawberries or pineapples or both! For the strawberry costume, get a red dress or any red outfit and craft out the green tops with green cardboard. The pineapple costume needs a yellow dress or outfit and of course, a more dramatic green headpiece. Get both tutorials at Studio DIY.